# 10 – Farm of 115 hectares in San Isidro de Limonal
Farm of 115 hectares in San Isidro de Limonal
In the hills of Bagaces, Guanacaste, Costa Rica you will find a beautiful farm waiting for a new owner. This farm of approximately 115 hectares has it all: house, storage facility of 320m², irrigation system and water, rolling hills, open pastures, primary forest, river, national park, space, perfect climate, tranquility, clean air, fertile soils, electricity, freedom, security, privacy and last but not least: pure drinking water, the best in Bagaces and surroundings. Sufficient water supply of perfect quality will not be an issue in this area for at least the next 20 years.
And all this can be yours for only USD425.000.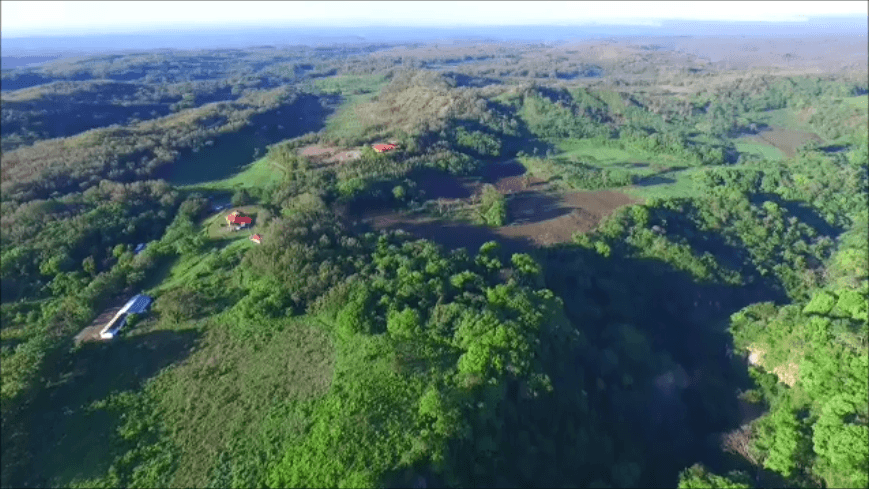 Guayabo
The town of Guayabo is only 15 minutes away and has major developments in renewable energy.
Also, if you want something even better than we can offer also an upscale house! Please download PDF-file here-under. Price of farm and house together is to negotiate.
It is worth visiting the area!
Location
The farm is unique located and if you like your space, privacy, nature all around, amazing views, warm weather but not too hot and like a good deal please contact us.
Scroll all the way down this page please for more information and a video.  And to get a better understanding of it all download the videos and photos in high definition with the buttons here under. If there is any interest please contact us, so we can make a visit together. Then if there is anything you want to talk about: no problem! We will try to meet your needs.
Thank you for your time and interest!