# 02 – Hotel site of 12 hectares.
Hotel site of 12 hectares in Bajos Del Toro, Sarchí.
If you are thinking of investing in Bajos Del Toro then this section is one of the best ones available. The views are incredible beautiful towards volcano Congo and Poás. Property is usable for 98%, has a private and secure entrance from the main road 708. Drinking water available in abundance. The main reason for your clients to come to this area is nature and the peace. Waterfalls are all over, the national park Juan Castro Blanco will be accessible next year, due a big investment.
The only problem we have here is the lack of beds!
Asking price is USD1.500.000,–.
Note: As the owners want to move back to Europe, they probably will listen to a good offer!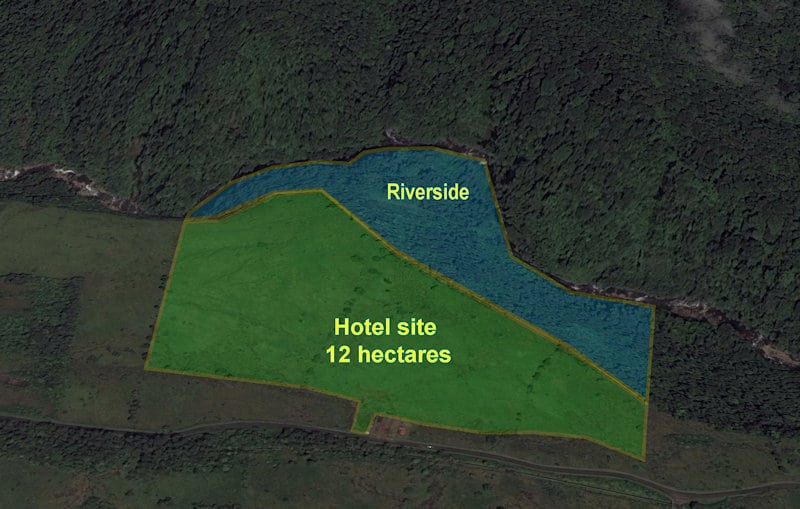 Surrounded by two national parks.
And year-round nice cool weather, with temperatures around 20°C – 25°C / 68°F – 77°F in a very safe and peaceful, unspoiled valley. Very close to the international airport and the central valley. Borders in the west with park National Juan Castro Blanco and in the east with park National Poás. Valley is something unique, unspoiled and virgin.
Electricity, phone lines, fast internet is all available. Located on the Caribbean slope with an altitude of 1.200 meters above sea level. Area is crime free and very peaceful. The last unspoiled area so close to the Central Valley.
Scroll down this page please for more information and a video. And to get a better understanding of it all download the videos and photos in high definition with the buttons here under. If there is any interest please contact us, so we can make a visit together. Then if there is anything you want to talk about: no problem! We will try to meet your needs.
Thank you for your interest!
End of Hotel site of 12 hectares